Welcome to the law firm Gräf & Centorbi and the tax consulting firm GC-Treurat
Your reliable partner for your company
Particularly in legal and tax matters, entrepreneurs need a strong partner at their side. The search for the right lawyer or tax consultant is therefore often tedious – after all, successful cooperation requires not only competence, but above all trust.
With our law firm Gräf & Centorbi and the tax consulting firm GC-Traurat, you have found a partner who can offer you both: As experts in the specialist areas of tax and legal advice, we guarantee you an all-round service for all your company's tax, legal and economic issues and questions.
Our objective is to advise you as best as possible and comprehensively. With a high technical competence, we offer you solutions for your issues in corporate law, debt collection, family law, law of inheritance, labor law, contract law, tenancy law, competition law and protection of industrial property, internet law, traffic law, data protection and privacy law, intellectual property and file sharing. Furthermore we offer comprehensive consulting to UK entrepreneurs seeking to establish a business on the german market.
We offer you special flexibility and transparency as well as further services, as for example 24/7 online access to your personal files. You can reach our lawyers or tax advisors easily by telephone, via the contact form or online via video chat on Skype.
Gräf & Centorbi wins innovation award TOP100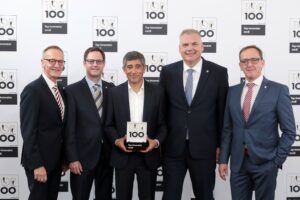 For the 25th time the Top100 of the German Mittelstand were honoured and now the law firm Gräf & Centorbi belongs to the innovation elite 2018. As mentor of TOP 100 Ranga Yogeshwar honoured the law firm together with Prof. Dr. Nikolaus Franke and compamedia on 29 June 2018 at the award ceremony in Ludwigsburg in the context of the 5th German Mittelstand Summit.
We convinced the jurors with our wide range of services and especially with our future-oriented e-file.